greetings from THRASH Press: friendly neighborhood literary anarchy
Dear comrades,
💥 Thank you for stopping by the THRASH Press table at the NYC Anarchist Book Fair on September 10! What a day. We're stoked that you signed up for our mailing list. You're the first ones.
💥 A little bit about us: We're a Queens-NY based tiny press publishing unique print and digital creations. Our goals are: exploring experimental DIY forms, artist collaboration, absolute transparency, accessibility, values-aligned funding, free publications whenever possible, community solidarity. We believe in literary anarchy: a creative community with autonomy, without focus on hierarchy and without control by or influence from the publishing industry and its norms.
💥 You can check out our current publications, upcoming community events, and submissions info on our website. You can also see a full account of our outging and incoming funds on our website. We do this to keep things transparent—if you give us $, you'll know where it goes.
💥 Our next event will be on October 23 at the Moore-Jackson Cemetery and Community Garden. Here's the info: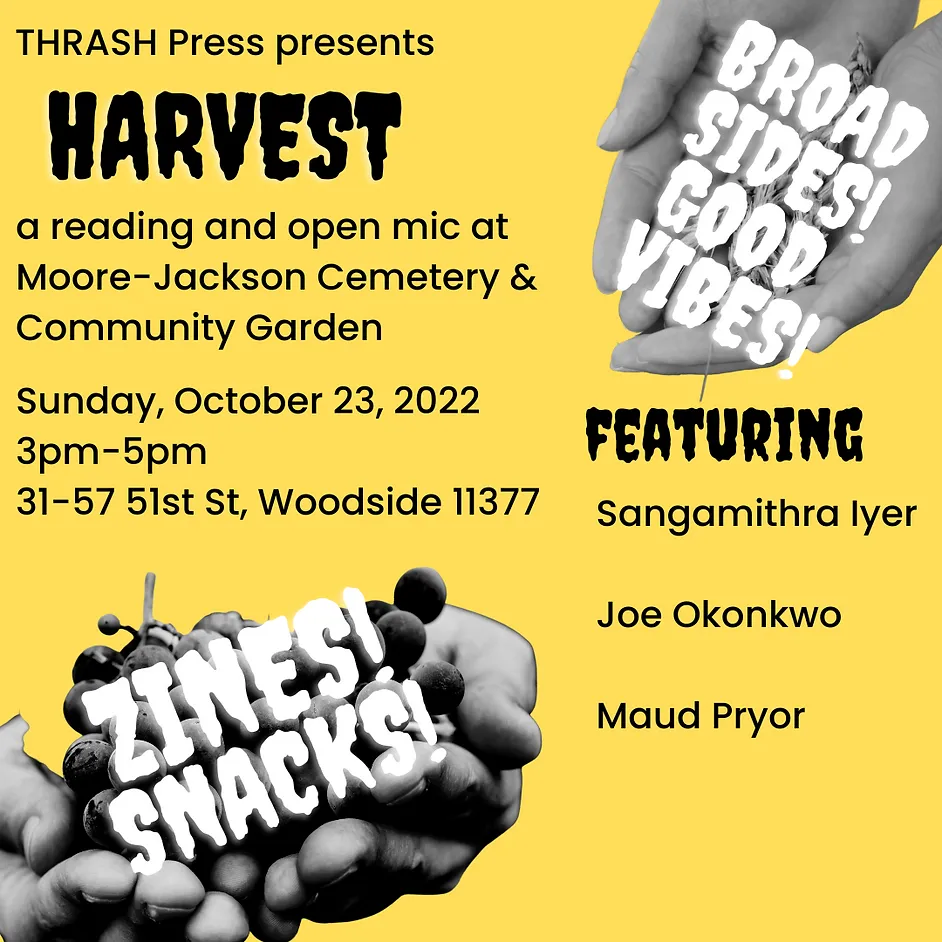 💥 We hope you'll be in touch! Feel free to contact us, and we'll keep you posted about future events and publications.
🌹Please take good care,🌹
J. @ THRASH, Publisher
THRASH Press
e-mail: thrash@thrash.press
P.O. Box 771065, Woodside NY 11377
www.thrash.press
Venmo: @thrashpress
Instagram: @thrash_press